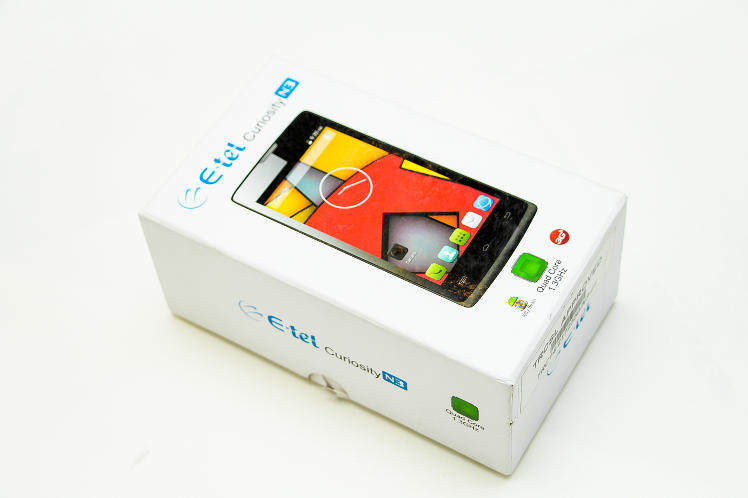 The looks and build
From the front, the Etel N3 is one of the best-looking budget smartphones we've ever seen. It's not fancy. Neither is it excessively rounded or colorful: it's a mature-looking phone, with a 4.5" screen embedded in a front with acceptable bezels. It's not particularly slim – a millimeter thinner than the Lumia 525 – but it well in the hand and is fairly heavy. The back panel, which is a matt black plastic, slightly cheapens the look with excessive lettering and serves as a fingerprint magnet royale.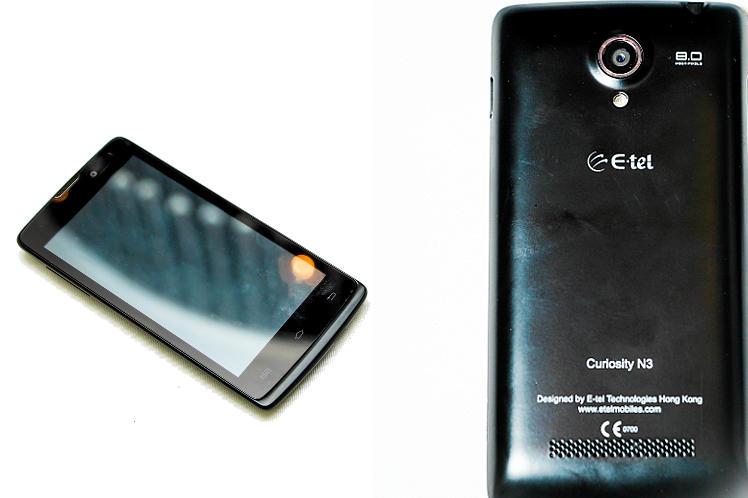 Build-wise, it's very well done on the outside, about as solid as an HTC One X. There's a bit of backlight bleed around the edges of the screen.
The specsheet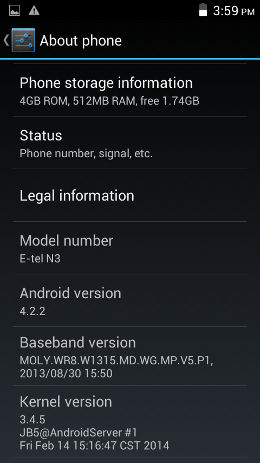 The Curiosity N3's specsheet is an odd one. It's a quad-core phone. It has a MediaTek MT6582 processor with four cores and a clock speed on 1.3 Ghz, complete with a Mali-400 MP GPU, running Android 4.2 . Now technically, that's only a tad under a Samsung Galaxy S3's power. What's weird is that it has only 512 MB of RAM (in practice, 460 MB).
While we've seen time and time again that it's perfectly possible to get by with 512 MB of RAM, we have to question the wisdom of hitching it to a quad-core processor of any kind. It's like dropping a V6 engine inside a Maruti 800 and expecting it to sound cool. It's not. What you have is a phone theoretically capable of handling any app on the market, including the highest-end games, but being unable to because of a missing slice of memory.
The screen is this phone's biggest luxury. While the 480×854 resolution (240 dpi) doesn't seem like much, it's an IPS display – a cheaper cousin of what you'll find in the iPhone. This is as good as it gets in a budget device. It's crisp, colors are vivid, the screen as a whole is very readable and it's very responsive. There's also an 8MP camera on the back (which we'll test), a 2MP front camera, HSDPA 21 Mbps (not that you'll ever get those speeds) and a 1750 mAH battery to boot. And dual-sim functionality. It'd be a very rounded package if not the RAM.
Etel also claims 4GB of internal memory, though there's actually only 1.72 GB that you can use.
Interface
Most phone manufacturers either go stock or do horrible things to the Android interface. Etel's opted for a middle path. They've replaced the icons with their own (all of them clearly reworked iOS 6 icons) and left everything else untouched.
This means stock Android is a simple launcher change away. There's also the option to change the color scheme of the menus, switching between a very iOS-ish white and the usual default Android menus, both of which are quite pleasant. Usually, this option is kept hidden.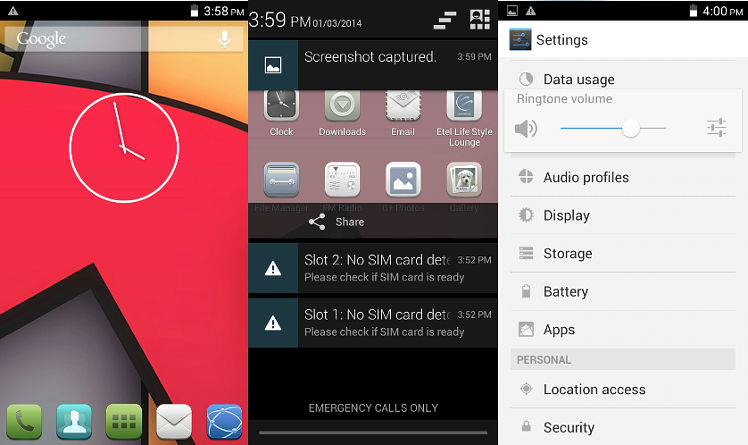 Performance
The Etel N3's stock performance is epic. It's fast and snappy in the menus and on the homescreen. Lag sets in only with the "water" Live wallpaper, which is forgivable.
However, if you expect to run Asphalt minimized while flipping over to your social media feeds, forget the idea. The Etel N3 is supremely good at one heavy thing at a time or three to four smaller processes. Which means yes, Facebook and Whatsapp can run, but don't expect to run a Youtube video at the same time without lag. There's only so much you can do with 512 MB of RAM, quad-core or no quad-core.
Battery life is good by default. Unless you throw it into use, the CPU keeps three cores turned off and one core at 598 Mhz. Heavy use burns out the battery pretty fast. We hit around 18 hours in our average day-of-use test, which includes an hour of music, a screen-on-time of roughly three hours, WiFi enabled around the clock with email, Whatsapp and Facebook syncing away. It's enough to take you through a workday: definitely not enough to watch video on. If, and how the battery life will change after a month of use is not yet determined.
Camera, sound and other essentials
The camera is usable. On one hand, it copes with light quite well, picking up color in sub-light conditions. Greens are slightly washed out, reds are a tad too vivid and there's a little bit of noise – nevertheless, very acceptable performance and detail. It has an HDR mode that captures a bit more detail and produces noisier pictures.
Software Version (AAG

)